2017 Entries have closed but check out our Program of Plays!
2017 Festival Adjudicator
Meet our Adjudicator – John McMahon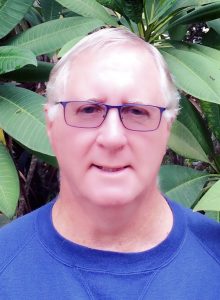 John started his theatre life in 1968 in Dalby, joining the Dalby Players. At the end of 1970 he relocated to the Sunshine Coast but by then he was hooked on the theatre. Early in 1971, he joined Buderim Amateur Theatre Society and in a short time became an integral part of the BATS organisation. Memorable plays were Harvey (his first for BATS) and all three of The Norman Conquests (playing "Tom the Vet" every time). His favourite role of all time is "Reg" the used car salesman in Hugh O'Brien's Love or Nearest Offer.
John has also performed and/or directed with Glasshouse Theatre, Independent Theatre Eumundi and Nambour (NATS).
From 2008 to 2013 John acted and directed with his two daughters, Sarah and Anna in SAD (Sarah, Anna Dad). John describes this as the most wonderful time in his theatre life.
John was honoured in 2017 by being inducted into the Sunshine Coast Theatre Alliance Hall of Fame.
About being an Adjudicator John says that he will do his best, to be honest and constructive, but not cruel. As John has always said," It's just one person's opinion, on the day
---
What is a One Act Play Festival?
Each year, across South East Queensland there is a flurry of thespian activity as small and large theatre groups select a one-act play, audition and cast the required actors and rehearse intently to create the very best possible production of that play.
While this is happening, entry forms are completed and sent off to the various theatre groups who host a weekend One Act Play Festival and then the fun begins. Each Festival has an average of 15 – 20 plays entered in either Intermediate or Open (Senior) categories and there is a wide range of awards available to be won. Each Festival chooses an Adjudicator to make the decisions and the final Awards session is always a highly emotional event. Festivals are held as far west as Dalby, south to Beenleigh and north to Sunshine Coast (Buderim) and the season runs from June to September. Some plays are entered into all the Festivals, some to only one or two, but regardless of the number, all involved speak of the fun, friendliness and rewards that are gained.·
We are proud that our Festival has the reputation of being one of the friendliest and best-organised Festivals in the South East Queensland Festival circuit and we would love your theatre group to submit a play this year.·
If your theatre group is interested in entering our exciting Festival, please contact the Festival Director, Craig Taylor on 0422 611 812 or via email to be put on the database.
The Ipswich Little Theatre One Act Play Festival continues to be the longest running festival of its type in Australia and no one has yet disputed that claim.