Young Theatricals (YTs) is our drama group for teens, 13 – 18 years old. We meet on Saturday afternoons, 1pm – 4pm, in the Jean Pratt Building. For any information regarding Young Theatricals in 2019 and beyond, please contact Kyle & Samantha at youngtheatricals@gmail.com.
Run by convenors Kyle Breese and Samantha Johnson, YTs aims to teach students performance skills and provides opportunities to showcase their talents throughout the year. Students will learn about character development, how to create and manipulate mood and tension in their performances, vocal skills, physical characteristics and expression, and more!
Performance dates and show information for 2019 are as follows.
Mid Year
This year, for our mid-year performance, the students will be performing two one-act plays as part of a whodunit-mystery event: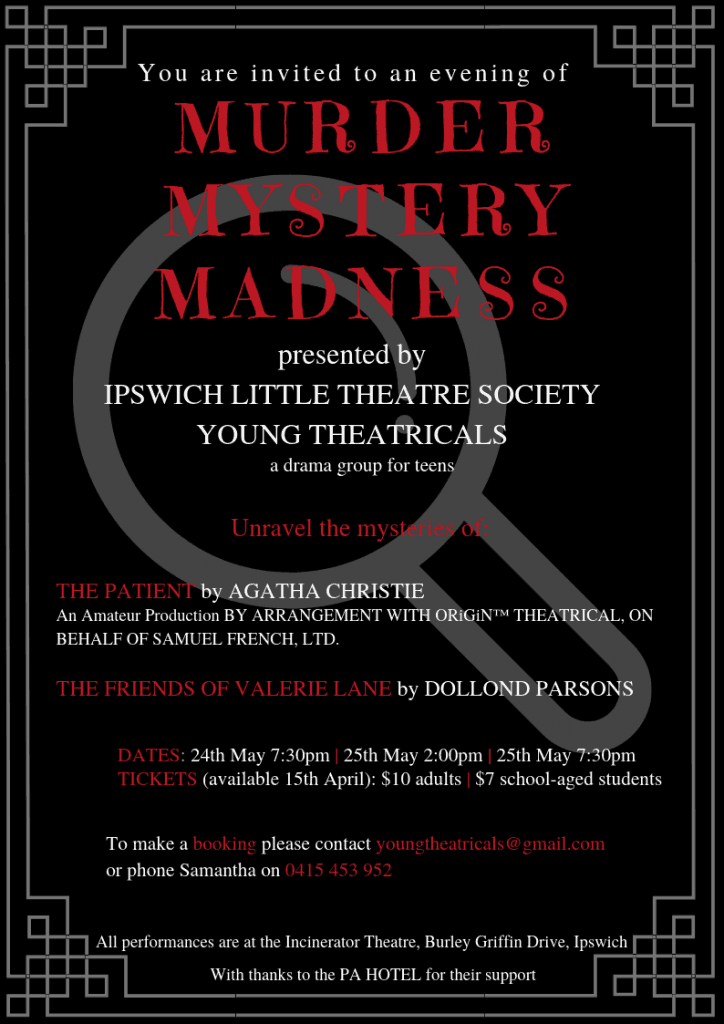 The Patient by Agatha Christie: An Amateur Production BY ARRANGEMENT WITH ORiGiN™ THEATRICAL, ON BEHALF OF SAMUEL FRENCH, LTD.
The Friends of Valerie Lane by Dollond Parsons.
24th May 7:30pm
25th May 2:00pm
25th May 7:30pm
Tickets (on sale 15th April): $10 adults, $7 school-aged students
Please contact youngtheatricals@gmail.com or call the number on the flyer to make a booking. Group/bulk bookings (10+ tickets) welcome.
Join the event on Facebook for updates: https://www.facebook.com/events/441479296594879/ (please note that joining the event does not guarantee a seat, please ensure you have made a booking).
All performances will be held in the Incinerator Theatre, Burley Griffin Drive, Ipswich.
Many thanks to the PA Hotel in Booval for their generous raffle contributions.
End of Year
13th December 7:30pm
14th December 2:00pm
14th December 7:30pm
In previous years, students have showcased their talents through the sharing of monologues, and productions such as Melissa's Big Birthday Bash, Phantasmal, Camp Euphoria (a unique piece having been written and directed by the students), Wild Wild West (a theatre restaurant), and Hating Alison Ashley.
Previous convenors of YT's have included Courtney, Liz & Rebecca, Tony & Aaron, and Craig, Jan & Desley.