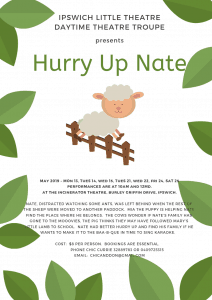 Feel free to distribute the flyer for the current production – Hurry Up Nate Flyer
Cost is $8 per person.  Bookings are essential.  Phone Chic Currie 32889783 or 0409 725 315.
Daytime Theatre Troupe rehearse on Wednesdays at 10 am.
2019 is the 36th year of Ipswich Little Theatre's Daytime Theatre Troupe performing for the children and families of Ipswich.
Our first production of 2019 is — "Hurry Up Nate" to be performed on May 13, 14, 15, 21, 22, 24 at 10am and 12md and a Saturday matinee on May 25 at 10am.  Nate the sheep has lost his family and Mia the puppy is helping him to find the place where he belongs.  The cows wonder if his family have gone to the moooovies, while Abraham the pig thinks they may have followed Mary's little lamb to school.  Nate had better hurry up and find his family if he wants to make it to the baa-b-que in time to sing karaoke.  Children will experience the concepts of rhyming, counting, colours, positioning, sizes, relationships and jokes and enjoy joining in with well known children's songs.  The show runs for approximately 45-50 minutes and children meet with the characters following the performance.
==  ==  ==  ==  ==  ==  ==  ==  ==  ==  ==  ==  ==  ==  ==  ==  ==  ==  ==  ==  ==
The second production will be "An Aussie Christmas Tail"  to be performed on selected days from 29 October to 8 November.
Performances are at the Incinerator Theatre's air-conditioned Jean Pratt building, Burley Griffin Drive (off Griffith Road) Ipswich. Children are seated on the floor with actors performing around them. There is ample parking and our theatre is adjacent to the Queens Park Nature Reserve, playgrounds and Nerima Gardens.
Our pantomimes are performed by adult actors, for an audience of playgroup/kindy/school groups. Actors and audiences alike have a wonderful time!! Performances are during school hours and rehearsals are Wednesday mornings. New members welcome.
Any enquiries, please contact the Convener,  Kay McAllan
Daytime Theatre Troupe History
1983
In the beginning……..
Daytime Theatre Troupe was formed in 1983 when Jane Sheppard and Jan Paterson called a meeting for a group of young theatre "mums" to discuss how they could still be involved with theatre activities without going out at night to participate in theatre productions. Daytime Theatre Troupe's first performance was Pinocchio and the Blue Fairy presented in January 1984 and the group has functioned happily and successfully ever since, providing youngsters with the magic and excitement of live theatre.
Many of the original "mums" are now grandmothers and are still involved and enjoying their time with Daytime Theatre Troupe. Membership is predominantly female, but the occasional intrepid male has ventured into this enthusiastic group and has lived to tell the tale.
Daytime Theatre Troupe meet every Wednesday from 10.00am – 12.30pm in the Jean Pratt Building and perform two shows each year where wide-eyed youngsters are enthralled by the antics of fairy-tale characters that come alive in bright coloured costumes – characters that the children can interact with and meet after the show.