All auditions and readings (unless otherwise advised) are held in the Jean Pratt Building which is part of the ILT complex at 7.30pm. Information about each play can be found below.
Main House Season 3 – Audition Date: Monday 1 April 2019
The Cemetery Club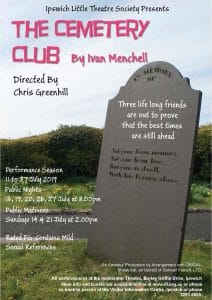 Written by: Ivan Menchel
Director: Chris Greenhill
Synopsis
Three Jewish widows who have been lifelong friends meet once a month for tea before going to visit their husbands' graves.  Ida is sweet tempered and ready to begin a new life. Lucille is a feisty embodiment of the girl who just wants to have fun, shop, and catch the eyes of admirers. Doris remains fiercely devoted to her late husband and takes her grave-tending responsibilities very seriously.
Ida is not used to being alone after a long marriage, but doesn't think she's ready to get involved with a man – that is, until Sam enters the scene. Lucille and Doris see the budding romance between Ida and Sam as a threat to their monthly ritual and begin interfering with devastating results.
A bittersweet comedy about love, marriage, death and the challenges of moving on.
Cast Required
4 females aged between 50-60
1 male aged between 50-60
Contact Details for Director: email cgreenhill@bne.catholic.edu.au;  Phone 0427 977 007
Season Dates: 11-27 July 2019- Night performances on 2 Wednesdays, 3 Thursdays, 3 Fridays and 3 Saturdays  and 2 Sunday matinees
Main House Season 4 – Audition date: 12 June 2019
A Bunch of Amateurs

by Ian Hislop and Nick Newman.
Director: Shane Mallory
Assistant Director: Aaron Evans
SYNOPSIS:
Keen to boost his flagging career, fading Hollywood action hero Jefferson Steele arrives in England to play King Lear in Stratford – only to find that this is not the birthplace of the Bard, but a sleepy Suffolk village.
And instead of Kenneth Branagh and Dame Judi Dench, the cast are a bunch of amateurs trying to save their theatre from developers. Jefferson's monstrous ego, vanity and insecurity are tested to the limit by the enthusiastic am-dram thespians. As acting worlds collide and Jefferson's career implodes, he discovers some truths about himself – along with his inner Lear!
CHARACTERS:
3m, 4f
Jefferson Steel: 40 to 65 (American accent required) –
A fading Hollywood star who is arrogant, insecure, brash, gauche, demanding, vulnerable and ultimately aware of his own absurdity.
Nigel Dewbury: 40 to 65 – Solicitor and leading light of the Stratford Players. Pompous, stuck up and self regarding, he believes he is the star of the show and should play all the leading roles.
Mary Plunkett: 35 to 65 – Owner of the Rectory Bed and Breakfast. Jolly, generous and an unashamedly adoring Jefferson Steel fan.
Dorothy Nettle: 35 to 55 – Director of the Stratford Players and the moving force behind keeping the theatre alive. Her sweet and accommodating manner conceals her inner steel
Dennis Dobbins: 20 to 65 (West Country/Yorkshire accent desirable) –
Handyman and village Mr Fixit. Avuncular though slightly dull, Dennis is star struck by Jefferson and fancies heading up his entourage of one.
Lauren Bell: 28 to 38 – Thirty something marketing executive, former physiotherapist and the sponsor's wife. Passionate about the arts and smarter than her husband allows her to be. She's treated like a bimbo because of her looks.
Jessica Steel: 18 to 28 – Jefferson's teenage daughter who has been neglected by her Hollywood star father and now wants to make him pay for it.
SIDES – These are sections of the play that will be used in the audition process:
Side Two Whole Cast (except Jessica) Jefferson Is Meeting The Team
Side Three Whole Cast (except Jessica) Rehearsal Process
Side Four Dorothy Jefferson Jessica Nigel Mary (We Meet Jessica For The First Time)
Side Five Dorothy Jefferson Jessica Mary (Touching Moment Between Dorothy And Jefferson)
Side Six Whole CAst (except Lauren) (Confrontation With Nigel And Jeffersons Contrition)
Side Seven Whole Cast (Getting Their Shakespeare On!)
Please contact the Director – via email Shane Mallory or 0403 175 702 for more information.
Season Dates: 19 September – 5 October 2019 – Night performances on 2 Wednesdays, 3 Thursdays, 3 Fridays and 3 Saturdays  and 2 Sunday matinees
Please note: Stay up to date on our Facebook page and come back here for more info!
Always remember to like our facebook page and be advised when our other 2019 audition dates are released!!
---