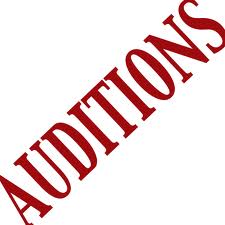 All auditions and readings (unless otherwise advised) are held in the Jean Pratt Building which is part of the ILT complex at 7.30pm. Information about each play can be found below.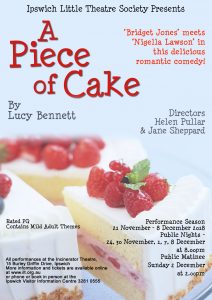 Audition Date: Monday 13 August 2018
Performance season: 21 November to 8 December 2018
Directors: Helen Pullar and Jane Sheppard
About the play:
Bridget Jones meets Nigella Lawson in this delicious romantic comedy! When Penelope is suddenly made redundant she seizes the chance to follow her life-long dream – opening a cake shop. She sets about renovating a ramshackle commercial property and making her dream come true, helped by bumbling estate agent David, not-so-bright assistant Lizzie and a handsome carpenter named Peter. But Penelope soon discovers that running a business is anything but a piece of cake!
A feast of entertainment that will have you laughing on the outside and give you a lovely warm feeling on the inside – just like you've eaten a piece of cake.
Cast required: 2 females and 3 males within the late 20's to mid 40's age range. Ages listed are a guideline.
(We have interesting ideas for staging including extra cast completing the on-stage scene changes as tradies whilst the cafe is renovated as part of the performance, others being customers in the cafe, shoppers walking past, job applicants etc.)
Characters:
Penelope – early 30's. Penelope is a determined, vibrant, likeable young woman with a depth of character as she reveals insecurities from a previous relationship. She has passion and drive, and a kind nature but is perhaps a little naive.
Lizzie – late 20's to mid 30's. Lizzie is an exuberant and crazy young woman who underneath, just wants to be loved. Quirky and also a bit ditzy, she laughs inappropriately and constantly says the wrong thing.
Peter – mid to late 30's. An unemployed Architect working as a carpenter, Peter is divorced and struggling to relate to his 13 year old daughter. He is friendly, capable and very likeable. Though his circumstances have been difficult he is soldiering on.
David – late 30's to early 40's. Slightly bumbling, inept with women but genuine and clever with words and slogans, David is the Real Estate Agent who has arranged the lease of the building. He pops in every day to enjoy the cakes and the company!
Michael – early to mid 30's. A well-dressed, well-groomed executive, Michael is also the ex-boss and ex-boyfriend of Penelope. He is hoping to rekindle their relationship despite having cheated on her and being responsible for Penelope losing her job. Lots of charm with high self-esteem but poor moral ethics.
For further information contact directors Helen 38124437 or Jane 54645363
Please note: Information regarding auditions for our 2019 seasons will be listed here. Stay up to date on our Facebook page and come back here for more info!
Always remember to like our facebook page and be advised when our other 2018 audition dates are released!!
---